Software development for Internet of Things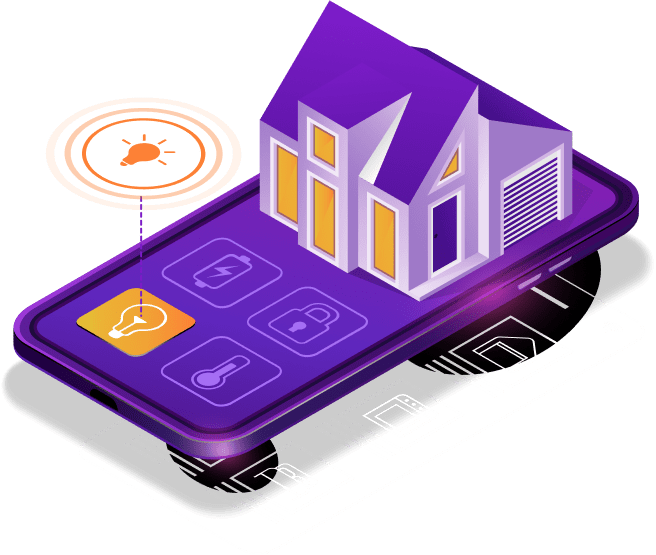 In BeKey, we assemble IoT devices, develop powerful algorithms to harness insights and value from gathered data and provide them with software solutions that help you track, understand and control processes, events, and states around your enterprise or your users.
Contact us
Building software for the Internet of Things devices
Right now, about 25% of businesses use the Internet of Things devices in their businesses, according to McKinsey. That number is twice higher than five years ago - so imagine what awaits us in the future.
Reasons for the increased adoption are simple: sensors and other hardware stopped being so expensive. Engineering companies - and we among them - learned how to build truly efficient and helpful AI-driven engines to make sense out of raw data these devices gather.
Then, they make them as accurate as possible, and utilize them in different industries. Security issues remain, but it's possible to tackle them - we certainly tackle them. At the end of the day, stakeholders finally saw an increased ROI in the right application of IoT.
The power of data analytics, data-driven decision making, and tracking is immense. In BeKey, we offer software development for the internet of things for businesses to acquire that power and use it to their benefits.
BeKey as an Internet of Things software company. What projects we do
Desktop and Web Solutions for Internet of Things projects
If you already have the IoT sensors you want to employ in your product, we can build a desktop or web-based solution for your product. Whatever you want to just monitor something (like the level of water or the temperature), to gather data to analyze something (like movement flow) or else - we're here to do so.
Android and iOS Apps Development for Internet of Things projects
The same thing works on mobile: we develop applications for your solution on iOS or/and Android and integrate them with IoT devices we've assembled for you. With mobile apps utilizing IoT capabilities, you're getting accessible and more affordable tools to harness data or remotely control processes in your business.
Full assembly of IoT devices + software development
You tell us what you want to accomplish with your IoT product - and we search and assemble the right hardware for it. Then, we connect these IoT devices to customized applications we've developed to gather, process, and analyze data from them. In the end, you are getting your fully customized IoT project.
We build Internet of Things products: the case for the construction industry
According to research from SAS, manufacturers industry adopts smart devices and intelligent analytical software that harness and processes data streams from them to increase yield, improve product quality, speed up operations, reduce costs.
We, too, developed a solution for the construction industry. Every fifth fatal accident in the private industries belongs to the construction industry, so we made it our mission to fix it.
BeKey developed a solution that comprises the sensors that would track people's movement around the building that is being constructed - and the intelligent platform that sees where the workers are. First, such a system notifies workers if they approach an area that is likely to be hazardous. Second, the system is aware of responsibilities divided between different workers on-site and notifies them if someone is out of their area of expertise: if, for instance, a painter can't enter zones where the welder operates.
Our final goal is to create a solution that will instantly increase safety on a construction site, optimize workflows at construction sites, and make the industry business processes cost-efficient and sustainable. Machine learning algorithms, combined with the power of data, harnessed from IoT devices, will help us to do so.
What our clients say about our IoT programming
Yoav Bachrach
CTO & Co-Founder at VideoTherapy.co
Or Yehuda, Israel
BeKey is truly a model company to work with. As many other startups, we also needed to deliver our product ASAP. We succeeded to do that with the help of the right developers and other professional guys provided by BeKey.
Avishai Josman
Co-Founder & CEO Crazy S.O.B. Ramat Gan, Israel
As an early-stage startup, we contacted BeKey to provide us with a professional full- stack team to help us scale and fast. We encountered a dedicated, professional, and welcoming team, with a unique passion for the job. They provided us with what we needed fast and the costs were very attractive. Highly recommend approaching them.
Itai Levran
Co-Founder and VP Product of Crazy S.O.B. Ramat Gan, Israel
We've worked with a few software dev suppliers, but once we met BeKey we felt that we've found the one... Their service is so much better than all the others, while they ALWAYS deliver on time or even before. They have some of the best talents, ready to boost your project, no matter in what field... Oh, and I almost forgot to mention that their prices claim to be the best in the market! BeKey is a GREAT partner for any of your software dev needs!
Why would you need software development for the Internet of Things?
IoT infrastructure improves production and operations
With an IoT system on manufacturing, people can predict the moment of equipment's exhaustion and replace it beforehand. Monitoring systems and sensors detect inefficiencies and defects when they just start to show up, so there is a window of opportunity to minimize their impact. Industries where a lot of different variables are involved in production or operations — such as temperature, pressure, etc. will benefit from sensors signaling something is off: that could be vital for the pharmaceutical supply chain, healthcare labs, transportation businesses, manufacturing, and retail.
IoT optimizes employees' workflows and management processes
Inefficient management is costly for every organization. Let's take bed management in hospitals. Free beds are significant if there is, for instance, a flu outbreak nearby. IoT devices notify whether patients will be released from the care. A people analytics engine forecasts the peak of an illness outbreak. Combined, these two help hospitals prepare staff and beds for the "season" preventively - for instance, send those in not-critical condition home to accept patients from ED. Smart notifications, connected to patients' wearables, though, help nurses prioritize routing and provide care to those who need it. Inventory management also can be largely improved through product sensors — or shelves sensors.
Application of IoT decreases the risks and costs of production
As IoT systems detect and notify businesses about potential bottlenecks and breakdowns, businesses gain the ability to act on the catastrophe before it happens and mitigate its consequences. Therefore, companies that decide to adopt IoT on their floors / in their processes benefit from being able to know for sure and make better, more accurate business decisions, schedule upgrades and repairs where it's needed.
IoT boosts customer engagement and advances promotion
Retailers are one of the first who figures out the immense value IoT and analytics can bring to their business, and most of them agree it's the best data gathering method. In-store IoT infrastructure helps retailers understand how customers are moving through the shops and wireless connection to their phones helps them find the needed product. The same technology, by the way, works for airports and provides travelers with the extremely valuable opportunity of not being late.
IoT ensures secure and safe supply chains
There is also a point of fraud or anomaly detection in products moving across the supply chain: when sensors, for instance, know the package with meds was unpacked not on the scheduled time — or when it is obvious that food didn't survive the heat. Anomaly events allow businesses to figure out bad staff and fix it, without it making its way to the customers.
IoT's wearables and healthcare devices improve care outcomes
Wearables and other connected healthcare devices that monitor people's life signs make physicians' decisions more accurate and give them the tools to, again, act preventively on worrying symptoms. On the other side of the deal, people feel more in control when they can see how their state is embodied in numbers and how these numbers are changing when they, e.g. increase physical activities, choose a diet, or get better from the sickness.
Why choose BeKey among software companies for Internet of Things?
Dedicated teams of our engineers work solely on your project to create the product of high quality, security, and usability. With years of experience behind our back, we're using technologies that fit, specifically, the purposes of your product.
Advice from a startup hub
We offer our expertise in working and advising startups with moving through competition, learning complex nuances of product-market fit, and the importance of a product being adjusted to the audience, and so on.
Our R&D center is in Ukraine and we look for dedicated specialists by ourselves. You don't need to spend time and money on hiring, on-boarding, and office rent — we're doing that for you. Read more about the way we work here.