Wellness & Fitness App Development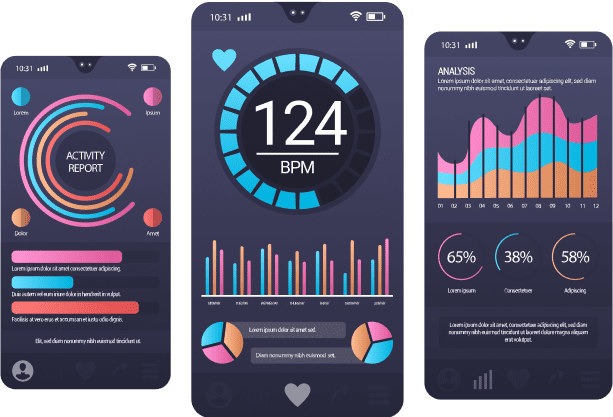 With surged popularity first smartphones, then wearables and trackers that can determine important life signs, wellness, and fitness industry software allowed this field to come into the new age of digital transformation. With our expertise as a development firm and services based on knowledge about the most significant challenges the health industry faces — the necessity to talk to users personally to retain them for the long term — we build custom mobile apps that help you do so, both for your clients and your internal corporate processes.
Set up a Call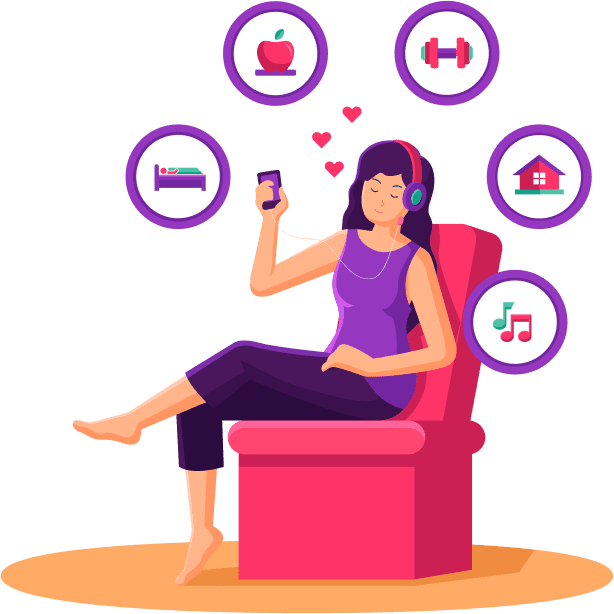 Innovation, lead by Health, Fitness, and Wellness app developers
The wellness industry is growing and changing. Its growth opens more opportunities for firms and startups in the industry to expand, make more deals, and present consumers with more offerings, services, and products at an attractive cost. However, the changes in wellness are a big challenge for the same organizations: they have to address the changing demands of a new customer.
The global health and wellness market has reached a market evaluation of $1.5 trillion and growing at a rate of 5-10% per year. The corporate wellness market surged up with businesses offering their employees different wellness benefits, which created an opportunity for fitness and yoga studios to create new programs for them.
Today, at-home training now is one of the most popular fitness options, that requires more on-demand content created and platforms where this content can be accessed. Wellness businesses can integrate these platforms with fitness trackers, other wearables, or even VR devices to help users track their progress and, if needed, mentor their exercises in real-time.
Mobile applications can now be a helpful mental health management tool, with implemented cognitive-based therapy principles and meditation practices. They also can assist users as nutrition or fertility planners, exercise platforms, and so on.
On the other hand, with the number of clients growing and their demands shifting, wellness businesses require resources that optimize their internal processes and customer relationships, the ability to get access to big data to create more personalized experiences, and, consequently, knowledge of privacy regulations in the field.
As a company with deep expertise in wellness app development to make them as user-friendly, secure, and useful as possible, we are there both for end customers and for the businesses themselves.
Want to develop a desktop solution or a mobile app for your fitness or yoga studio, gym, or any other wellness business?
Contact us
BeKey as fitness and wellness app developers
Seems like with Millenials going back to caring about their health and the rise of tracker technologies, more and more people want to break down their habits into numbers. We offer wellness app development services for the whole lifecycle — their main function is to track what users are doing. This includes their physical activity, food habits, sleep or fertility cycles, along with mood trackers, and so on. Analytics, employed in the apps, may, if requested, analyze the data, and offer content to help users change their behavior, adopt new habits, and so on.
Sometimes, diets are about weight loss, but lately, they're more and more about eating healthy. We develop apps with meal trackers and meal planners that help users adopt these habits — with or without nutritionists' online help. They often include content from nutrition knowledge bases. Using data processing algorithms we can use these bases to predict what meals and snacks users will benefit from the most — according to their preferences, pre-existing conditions, and weight or body-building goals.
There's a whole range of mobile solutions for physical activities to be developed. It can be a dedicated yoga app for your studio — or a geo-tracking solution for users to track their running. We can develop stand-alone or custom studio or gym apps, that will include various programs from training, and intelligent bodybuilding features that will help users plan the development of certain muscle groups, reach weight goals or just try to move more and avoid the consequences of a sedentary lifestyle. We are good both in men's and women's fitness app development with a personalized approach to training, nutrition, and gender specifics so that self-care activities have undisputed success. Per request, we can turn the app into a communication platform for your community or a virtual platform for remote coaching.
Depression, burnout, and anxiety stopped being excuses that help avoid hard work in the public eye. Technologies are there, along with the best mental health specialists and activists, to aid in managing these conditions or reducing their impact. Mental health apps can help users meditate, offer useful tools for dealing with anxiety or even panic attacks, become a calming distraction to use when the world feels overwhelming, and so on. Educational interactive content can help them recognize disturbing thoughts and negative thinking patterns.
We develop software in the Wellness Industry
Retention is one of the main challenges of the wellness industry, so for one of our clients, we developed a wellness scheduling platform that helped our clients keep track of their customers' visits — and keep their customers engaged. The customers wanted to achieve a particular wellness goal (usually — to lose or gain weight). Our client's team of coordinators, nutritionists, fitness trainers, and other wellness professionals helped them in it, managing to create a fitness app according to their goals.
The web-based scheduling platform itself was used by our clients; their customers installed hybrid apps for iOS and Android developed by our Flutter developers, connected to it — and completed tasks, and reached small goals in these apps in-between offline visits. Tasks were connected to their food habits, physical exercises, and so on, and were part of planners.
Some of the challenges were to complete a training program, eat certain meals, read useful articles, etc. If they managed to pass these tasks, they received badges for keeping up with them. A gamification element allowed us to add a bit of fun and motivation.
The system showed coordinators which users struggled with their challenges and how their progress reflected on their mood — a mood tracker was also incorporated into hybrid apps. In that way, coordinators, fitness trainers, and other professionals could soundly prepare for the next offline meeting.
Such solutions, though, work best with wearables, as it relieves users of the necessity to keep track of more things — and allows coaches to work with more accurate data; if needed, even in real-time. Constant connection and an opportunity to help users right now if they struggle is of immense value, as positive, encouraging feedback and support make it easier to change behaviors: start exercising, quit smoking, or learn how to handle anxiety.
We Can Provide the Following Wellness and Fitness App Development Services
Wellness and Fitness Mobile App Development
Regardless of what you want to offer to your customers: a new online tool for them to plan their meals, an online marketplace for your skincare solutions — or you want to invest in custom fitness app development, we're here to create fast, platform-agnostic solutions, combining the style and a feeling of your brand and conclusions from deep user research.
Big Data Analytics for Your Wellness Organization
We can build analytics algorithms that track your clients' inspirations, needs, and requirements for the content, and so on, — and show it to your managers in understandable, ready-to-action insights. The same machine learning algorithms, installed in an app, can help deliver personalized, helpful exercises, meal recipes, activity recommendations, mental health tips, or even online streams with little or no involvement.
Fitness Tracker App Development
Internet of things devices — wearables, in particular, — became an integral part of people's lives: nearly 45% of US residents wear fitness trackers or smartwatches. Being a good source of data both for customers to track their health and fitness progress — and for wellness businesses to correct their training and improve their services, integrated wearables can add real value to your product. We can build a fitness tracker app from scratch: do integration, make custom API for them to smoothly interact with the OS of the devices your customers use, and even create new IoT solutions specifically for your requirements.
Solutions In-Between Wellness and Other Industries
With wellness practices rising in popularity, lots of interdisciplinary solutions might arise at the intersection between your industry and others. That's where we offer solutions that combine wellness and travel (like apps for wellness-centric travel destinations, meditations, and marathon tours), wellness and retail (online shops for your care products and devices), and develop platforms for corporate wellness. We take into account the needs and pains of users' on both sides, to develop software that fills the gap perfectly.
Automation in Wellness Businesses
Lots of clients are hard to track, and it's, as we've written above, very important for the wellness industry to save time spent on data entering and other mundane tasks. With business automation software, your club/studio/business managers automatically see all data about clients when scheduling another visit, and keep subscriptions, and memberships in check. In this way, have more time to spend with your clients while the machine does all the repetitive data work and other boring stuff. Read more about our BPA expertise.
Content Platform Development for Your Wellness Product or Studio
With remote, at home, and even streaming training rising in popularity and people making whatever surrounds them in a yoga studio or gym. Wellness businesses need to reach them through digital, and content can do it for them. We create a platform for you to share and organize video and text content and talk to your clients via video calls and chats. Similar to some microlearning platforms, you can record exercises, help clients reach their wellness goals, and provide them with knowledge about their physical health in general, nutrition, sleep, and so on in an interactive, engaging way.
What Our Clients Say: BeKey among Health and Fitness App Development Companies
Yoav Bachrach
CTO & Co-Founder at VideoTherapy.co
Or Yehuda, Israel
BeKey is truly a model company to work with. As many other startups, we also needed to deliver our product ASAP. We succeeded to do that with the help of the right developers and other professional guys provided by BeKey.
Avishai Josman
Co-Founder & CEO Crazy S.O.B. Ramat Gan, Israel
As an early-stage startup, we contacted BeKey to provide us with a professional full- stack team to help us scale and fast. We encountered a dedicated, professional, and welcoming team, with a unique passion for the job. They provided us with what we needed fast and the costs were very attractive. Highly recommend approaching them.
Itai Levran
Co-Founder and VP Product of Crazy S.O.B. Ramat Gan, Israel
We've worked with a few software dev suppliers, but once we met BeKey we felt that we've found the one... Their service is so much better than all the others, while they ALWAYS deliver on time or even before. They have some of the best talents, ready to boost your project, no matter in what field... Oh, and I almost forgot to mention that their prices claim to be the best in the market! BeKey is a GREAT partner for any of your software dev needs!
BeKey as a Wellness & Fitness App Creator
Expertise Focused On Your Niche
After years of software development for different industries, we are excellent at researching the market so our engineering meets your business goals. We are very meticulous about the high performance, security, and accessibility of solutions we build and in building targeted, niche wellness products for a specific audience (like senior people, teens, etc).
Design that Helps Your App Help Users
If your app has a confusing interface that is heavy with visual elements, fonts, colors, and animations, you lose your users. Through rigorous testing, our design department creates interfaces that are simple, understandable, easy to use, and beautiful. We think good design is a vital asset in users' retention, so we make sure the app is helpful and comfortable for them.
Don't have a tech department or just plan to assemble it? You know there's lots of time and money going into that one. We deal with all hiring and accommodation challenges for you, and charge far less than Western countries — and we're accustomed, due to many years of experience, to high-quality remote collaboration with clients.
Faq
How much does fitness and wellness app development cost?
There's no simple answer. The cost to develop a fitness and wellness app consists of many aspects — feature set, how complex UI/UX is, what's going to be the high load of the app, which integrations are needed, if there are in-app purchases, etc. It's common to launch an MVP version of the app and get first user feedback before investing more money in the idea. To calculate an accurate price, we need to know the project requirements and ideally create specifications of the product. However, the total cost of the project can be somewhere from $30,000 to $100,000.
How to create your own fitness app?
When it comes to custom fitness app development, the next steps are recommended, depending on the complexity of your project:
model your monetization;
identify needs;
hire a development team with everyone having their assigned roles and budgets;
discover all the parts of the product. During this phase, you'll define the scope of work, create the project roadmap, create a preliminary UX/UI design and approve the visual prototype of your app;
make technical documentation;
create the UX/UI of your app;
develop a fitness application and create all the integrations you need;
quality assurance — testing the app to make sure it's bug-free.
BeKey can fully help you with each of these steps.
What makes a fitness app successful?
The most accurate answer to this question is absolute detailed knowledge of your potential customers. The key to the success of any wellness & fitness application is convenient interaction with the user and the availability of motivation. To stay on the cusp of success, we advise you to continue to observe trends and changes in the habits of your audience for adding interesting functions to our applications. We suggest the following trends for consideration:
gamification: try incorporating game-like widgets into your fitness app. Rewards, ratings, or points can be accrued, which users can exchange for something real and attractive;
virtual reality: help users imagine that they are part of a video game. With virtual reality, you can transport users to another dimension;
personalization: when fitness programs include personal features, f.e., individual goals and 24/7 contact with a "real trainer," users tend to exercise more consistently. In order for app users to reach their potential, they should stay engaged and be provided with the best support;
connections and social networks: you can work on social media integration so users can share their fitness wins online.